The SC-S80660L features Epson's latest heat-free PrecisionCore print head and UltraChrome Eco-Solvent ink technology. It produces images that are brighter and glossier than competitors with an unsurpassed colour gamut. It produces output that is more precise and consistent using lower pass rates and less ink, with simpler operation and less maintenance. Prints dry quickly to enable ad-hoc, same-day job turnaround, while the high capacity media and ink supply systems enable efficient roll-to-roll production with remote status monitoring and reporting. Unlike many competitors in the signage space, the printer runs off a standard power supply and uses ink that has a low odor to facilitate operation in a wide range of commercial, business and office environments.
FEATURES AT A GLANCE
Superior Performance 

– DUAL Print Heads, 15L Continuous Ink Supply System (CISS), high capacity waste system, high capacity roll loading, high precision Auto Take Up (ATU), and blower style print drying system for efficient Roll to Roll production with remote status monitoring and job reporting.

Superior Media Support 

– Compatible with Paper, Canvas, Vinyl and Film stocks, in widths up to 1626mm (64-inch) and thicknesses up to 1mm, in rolls up to 45Kg & 250mm in diameter.

Superior Colour 

– Epson UltraChrome GS3 ink enables prints with high gloss, high dMax, and an enhanced gamut. The base 9c ink set expands the colour range to 98% PANTONE while there is an additional channel for optional operation with White or Metallic ink4.

Superior Print Quality 

– Epson Precision Dot Technology with heat-free PrecisionCore print heads and eco-solvent ink, advanced MicroWeave and LUT, for accurate and predictable colour. Intelligent feed management with Advanced Auto Tension Control (Ad-ATC) for accurate placement, sizing, and linearity.

Superior Integration 

– Compact design with flexible networking, runs off a standard 5A 240V power supply, suits operation in a wide variety of office and production environments.1

Efficient Operation 

–One or more printers can be managed by a single operator with easy consumable loading. Incorporates auto skew correction and has a see-through platen cover with integrated lighting. Epson Edge Dashboard enables remote management and provides access to downloadable print and media profiles. Epson Edge Print enables quality production with a powerful yet easy to use interface2. The printer can also be used with a range of 3rd party RIP and workflow applications

Low Production Costs 

– Consumes very little power, produces quality output with minimal ink, does not require additional optimiser or finishing liquid, high durability print heads do not require regular replacement, bulk ink CISS system uses cost-effective bags.

Low Maintenance

– Advanced self-cleaning print heads with integrated crash guard, self-agitating ink lines and ink recirculation system, integrated air circulation and filtration system.

Superior Reliability and Durability 

– Comprehensive 1 year on-site warranty with optional cover that can be extended up to a total of FIVE YEARS (including print heads).

Superior Quality & Consistency
The SC-S80660L incorporates Epson's latest heat-free PrecisionCore print heads. The heads employ Variable Sized Dot Technology (VSDT) to enable smooth colour gradation with optimum ink application. While competing head technologies use heat to form droplets, Epson employs a patented MicroPeizo operation that is more precise and kinder on the ink, enabling superior colour accuracy and consistency. The heads are driven by Epson Precision Dot Technology with an advanced LUT and Half-Tone Module for images with high colour accuracy, enhanced contrast and reduced grain. Advanced MicroWeave patterns enable output with outstanding uniformity and reduced banding at lower pass rates. Epson Edge Dashboard software enables remote management and provides access to an extensive library of downloadable print and media profile settings.2

The printer features a high strength chassis that is robot assembled with laser welding for extreme parallelism. It features inbuilt levelling gauges to enable easy installation and has multiple height adjustments to cope with uneven flooring. A 'Closed Mushroom' paper path combined with an intelligent Media Feed System and Advanced Auto Tension Control (ad-ATC) ensure precise tracking. Print placement, sizing, and linearity, are all extremely precise and consistent, enabling output that is suited to the most demanding customers and for advanced tiling applications.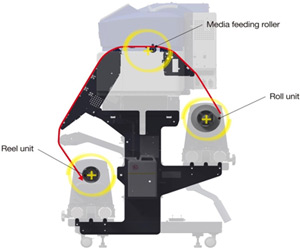 The printer uses Epson's latest Eco-Solvent UltraChrome GS3 ink. The ink uses a formulation that has a significantly enhanced gamut, gloss, and brightness level. The colour gamut produced with the basic CYMK ink set exceeds many competitors with 6 or 7 inks. The S80660L features with an expanded ink set that includes additional Light Cyan, Light Magenta, Light Black, Orange and Red ink that enables output with an unparalleled colour range, tone and depth, that is PANTONE certified4. The printer features an additional channel that is user configurable and adjustable. In normal operation the additional channel is loaded with cleaning fluid. For film and specialist work it can be loaded with White or Metal ink. The ink set has an un-laminated outdoor lightfastness rating of up to 3 years and is Nickel Free with a low VOC for minimum odour3. In-line flow regulators agitate the ink before it passes to the print head while the white/metal channel includes an additional recirculation function to minimise settling and ensure consistent pigment density.
Simple & Efficient Operation
The SC-S80660L has been designed to enable flexible and cost-effective high-volume production. Ink adhered to a wide range of substrates including vinyl, canvas, banner, film, and even photographic paper. It dries quickly to enable continuous roll-to-roll production and outgas rapidly to enable same-day job turnaround complete with lamination. The printer supports single operator media loading with an integrated easy lifter and a platen release that is accessible from the rear. Media setting can be completed quickly with auto skew correction and downloadable profiles.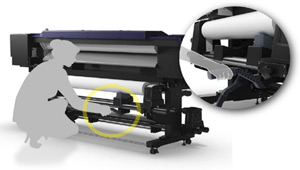 The printer is suitable for installation and operation in a wide variety of environments including factories, shops, offices, and design studios1. It incorporates a see-through platen with integrated lighting for direct progress monitoring and ships with Epson Edge Dashboard software for easy configuration and remote management. It ships with Edge Print software that enables output of high quality artwork with minimum operator training and skill. Epson Accounting software enables cost tracking for business analysis and simplified job costing. For customers who require advanced RIP functionality and/or workflow management the printer is compatible with a wide range of mainstream 3rd party applications.

Easier Maintenance and Lower Running Costs
The SC-S80660L has been designed to address the increasingly competitive nature of the signage market. It provides superior and more consistent output with reduced maintenance, downtime, and cost. Unlike competing signage technologies the print heads do not require regular replacement. Heads are mounted in an enclosure with a guard that protects against media crashes and dust collectors to remove particles that may otherwise spoil prints. An advanced cleaning system tracks print volumes and senses when nozzles are becoming blocked, automatically engaging a Fabric Wiper to remove ink build up from the head and fluff build up from the guard. An integrated air circulation system removes airborne dust and ink particles, collecting them in filters that only need to be replaced every 3 to 6 months (along with the Fabric Wiper). Less print wastage occurs and there is a significant reduction in the amount of time and materials involved with cleaning and maintenance.

The SureColor S80660L conforms to Epson's corporate directive for cost effective and durable operation with minimum environmental impact. It consumes considerably less power and ink than competing product and features a high capacity Continuous Ink Supply System (CISS) which is loaded using cost-effective 1.5 litre bags that are crushable after usage. Epson sponsors a program that is operated by a number of companies across Australia and will arrange free pickup and recycling of used bags and waste ink.